Custom Bereavement Quilts
Sleeping under a quilt made from the clothes of your lost one or wrapping it around you can be very helpful in the painful process of grieving.
Honoring the outstanding achievements of your loved one can help with the sorrow of loss.
Or it can help to simply celebrating the life of the loved one you lost and honor those precioius memories.
I make custom bereavement quilts for people who want their own personal quilt displaying the clothes of their loved one, something that honors their loved one, helps them remember the good times, and both comforts and warms them.
Or you can have me make one for someone who needs one – a family member such as a brother (see above). Or a friend (see below)
People send me those precious clothes.
And I often made a software mockup, such as the one below, of a pattern they might like.
And sometimes it turns into a quilt, like the one below.
You can't buy this quilt online or in a store because it is made from the clothes you provide and instructions you give me.
Your quilt is made in my home from design all the way through construction to finally adding a personalized label using your words. You can also choose your own backing.
I quilt it on my longarm machine and I do all the work myself. Call Rosie today at 360-726-1405 and let's get started.
Custom Bereavement Quilts
Below are some of the custom bereavement quilts I've made. Interested in learning more about a particular quilt? Click on Stories which appears below some of the quilts.
Customers often leave the design entirely up to me, while others collaborate. A few know exactly what they want and guide me through the process so that they get exactly what they want.
The Dancing Lady Quilt
I chose the picture of this quilt to illustrate my website because it embodies the spirit of my work. Losing a loved one is terrible but having a quilt made from their clothes helps.
If you'd like to know more about how I made this quilt, click on Stories to read about it.
All my bereavement quilts are custom designed according to your needs and instructions. This customer was the daughter who grieved her mother and wanted a motif of dancing in her quilt. I chose the image of a dancing lady soaring in the sky with a setting sun in the background. As Gloria had to her family, this lady embodies the feeling of hope and spirit. Her daughter told me she loved to dance.
Honoring a Husband, Father and Brother – Quilts for all the Family
Below are four bereavement quilts using Ed's collection of lovely Hawaiian shirts, one for his wife Meg, one for his daughter Michelle, one for his daughter Sonja, and one for his brother Dave. There were twenty shirts in all, most of them Hawaiian shirts.
Memorializing a Mother
Ariana's mother loved to sew. When she contacted me she said she didn't know what to do with all the extra fabric her mother had collected. She asked if she could send them to me along with her mother's clothes and I could use what I needed. The resulting quilt is above, my first attempt at a 3D effect. Ariana loves it and all three of her aunt's think her mother would love it as well! For more about how I made this quilt, see Stories.
A Surfer Girl Bereavement Quilt
Alice loved to surf and wanted a quilt memorializing her father. She sent me his many golf shirts from which I made the "Surfer Girl" wall hanging shown above. To learn more about this unique wall hanging click on Stories.
A Lone Star Quilt
Mike was a Marine who lost his beloved father and wanted a patriotic theme for his quilt, since his father had preceded him into the military. We collaborated on the quilt until we both were happy with the overall pattern. This is my most common experience where customers let me know what they want but leave most of the details up to me. Mike was more than pleased with the result.
A Picture Frame Quilt
The quilt shown above is a good example of a quilt that was the brainchild of my customer who wanted a quilt made for her mother using her grandfather's clothes. She wanted the buttons on his shirts to show in some blocks as well as some of the pockets and of course other memorabilia from her grandfather's life as a pilot. I loved making this quilt.
A Mother's Quilt Made with her Grown Son's Shirts
Losing a child is catastrophic at any age, even if your son is grown and has a growing family of his own. So LaVonne was very happy to have this simple hour-glass patterned quilt (which I call a throw since it can be used in many ways) made out of her son's beautiful dress shirts.
This quilt is typical of those customers who leave the selection and style up to me. It is a favorite – a simple but beautiful quilt to honor a son.
A Unique Bereavement Quilt
Made with a Mother's clothes and using Kaffe Fassett's Haze Kilim Pattern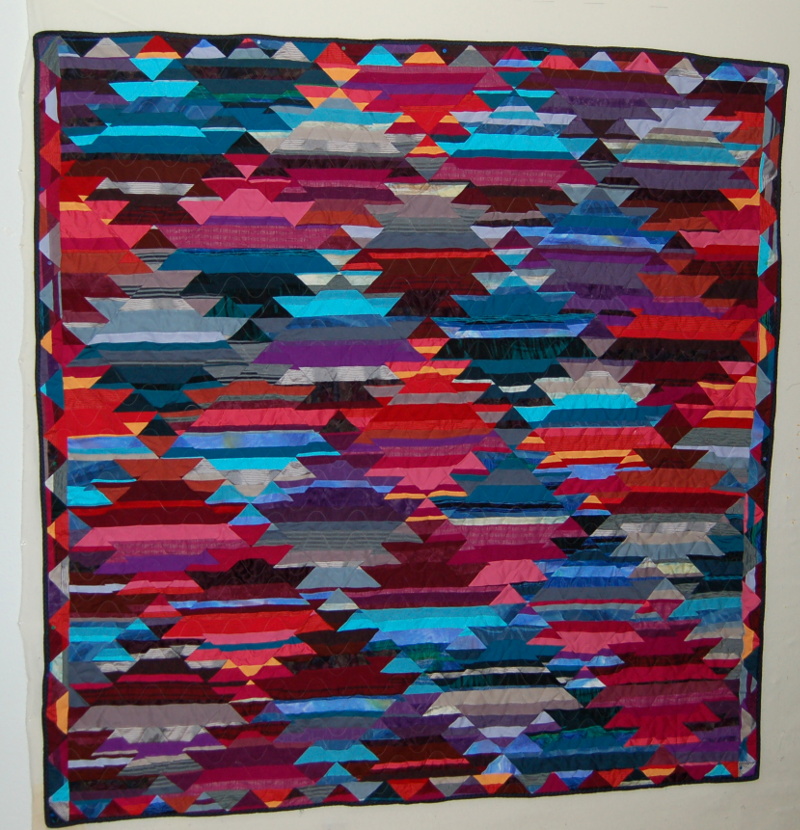 Throughout the history of quilting, quilters have made their own fabric by sewing together strips of fabric. Kaffe Fassett's unique quilt design called Haze Kilim was the inspiration for this contemporary design, which uses the amazing clothes of Emily's mother to form the many triangles making up this quilt. Learn more about how I made this quilt by clicking on Stories.
A Bereavement Quilt based on a Braque Painting
This unique quilt was made following instructions from a Melinda Lin pattern, which she said was inspired by the Cubist artist George Braque. I used Emily's mother's clothes once more (see quilt above) to make this artistic quilt for Emily's brother who is himself an artist.
A Quasar Quilt for Eli
The Third Bereavement Quilt made from a Mother's Clothes
Eli wanted a quilt of his own, made from his grandmother's clothes. His choice was a Quasar quilt. To learn more about this quilt, click on Stories.
Helping a Family Grieve the Loss of their Son
Losing Grant was a devastating loss for this family. Grant had just graduated from college, was preparing for his first major job, and was excited about sharing his life with his fiancé. I worked with Grant's mother Valerie to design and produce four quilts – one each for his sister, his girlfriend, his parents and his aunt. These quilts are an excellent example of his mother's attention to detail and her help in guiding me through the process, one of which is shown below. She assigned every item to a particular quilt, chose the colors and the traditional design of the double wedding ring pattern, and gathered important mementos for each border.
The quilt shown below which was made for Grant's parents is a wedding ring quilt customized with many items of significance to his parents.
Helping her Girls with the Loss of their Young Father
Cheryl lost her husband suddenly when he was only 40 years old. Her daughters Lizzie and Chloe were very close to their father and Cheryl wanted to do something positive to help her girls. She sent me a huge box of shirts of all kinds, but I discovered an equal number of light and dark shirts which cried out "log cabin quilts". Except for agreeing to the log cabin quilt, Cheryl left the design of these quilts up to me. Below is the quilt I made for Cheryl herself:
Raising two daughters suddenly on her own, dealing with her own grief as well as theirs, Cheryl is an amazing woman struggling in a difficult situation. She wrote: "… I love when I look at my log cabin that I picture the shirts and I picture Eric in the shirts…. The quilts are so great to have around – much better than a sad closet full of clothes. This was one of the nicest things I could have done for myself. I just can't get over it."
I also made three t-shirt throws for Cheryl and the girls, which I am displaying on the Bereavement T-Shirt page.
Another Log-Cabin Quilt – This One for Kelli
Log cabin patterns really lend themselves to bereavement quilts made from men's shirts. I have made a number of them, and this one for Kelli is one of my favorites. The poem in the middle is the beautiful "Letter from Heaven" which was one of her dad's favorites.
Father's Cheery Checked Shirts Make a Perfect Chevron-Patterned Quilt
Shannon sent me lots of her father's cheerful checked and striped shirts and loved the idea of a chevron pattern. For this quilt, I followed Kaffe Fassett's pattern displayed in his books. He uses his amazing shot cottons but the design is great for men's shirts. The simple square blocks cut across at a diagonal are the essence of traditional, but by turning them on point and using unusual materials such as shot cottons or men's shirts, they become chevrons and quite special. Shannon loved it – what better way to display her father's cheery shirts?
A Picture Quilt of a Happy Child for Grieving Grandparents
Junette wanted me to make her a quilt out of the few clothes she had belonging to Alexie June, her granddaughter, who was run over when she was two. It was a terrible event, but Junette wanted the quilt to show the joy this little girl gave her grandparents and all who knew her in her short life. To read more about this little quilt, click on Stories.
Six Quilts made from Mother's Clothes for Daughter, Partner, Son and Kirby the Cat
Kirby the cat kept holding his spot on Shauna's bereavement quilt (made with his owner's clothes), so she decided she needed to get Kirby a quilt of his own, made with the adored clothes.
Second Batch – Two Throws
A few years later I got a request for two more quilts from the remaining remnants of the mother's gorgeous clothes. Below is the first throw I made, using the last of some of the items.
And I was able to find enough material to make a second throw for Shauna's brother (see below):
The dark and light purple swatches were from material I bought to supplement the remnants of the mother's clothes. And though the remaining remnants are getting whittled down, I think I have enough for one more throw!
A Simple Quilt for a Grieving Miner's Wife
The quilt I made for Ginny illustrates how a simple quilt can also be a very beautiful and meaningful memorial, helping the heal the grief of a wife's loss (Ginny's mother-in-law). It made for a cozy quilt, warming the body as well as the heart as it honored a man who spent the greater part of his life down in the mines. Ginny said, "Yes, it is beyond words. There wasn't a dry eye when my mother in law opened it. Honestly, it is even more than I anticipated. Thank you again."
Quilt Designed by Customer – A Simple but Lovely Way to Display her Mother's Clothes
May not only designed this quilt but told me which clothes to put where. The only thing I had to do was cut out blocks and sew them together and otherwise quilt, border and label it.
A Mother's Gift to her Kids
One of the first commissions I received was for a number of bereavement quilts for a young family who had lost their father. I ended up making five quilts for this family out of their fathers shirts – two each for Luke and Lisanna, ages 9 and 7 at the time. Below are the two quilts I made for the youngsters:
Luke's Quilt – I first made a bed-sized Contemporary Log Cabin Quilt below for Luke:
Lisanna's Quilt – I made a Ribbon Quilt for Lisanna, using two different shirts for each color except the orange middle.
I was told that the kids loved their quilts. See below for a picture of how they felt when they got their quilts. I made both kids a smaller throw to have something more their own size.

Lori's husband was very interested in math and especially fascinated by Fibonacci's Golden Ratio. Following some of those ideas, I made this quilt for her. Actually it almost looks like a wedding cake, doesn't it?
One Family – Three Quilts – A Collaborative Effort
A family lost their beloved husband/father at the age of 50. Using the husband's clothes, I made the three quilts, two of which shown below. The mother's queen-size quilt was made from eight shirts and two pairs of trousers and featured a unique design chosen by the mother. The outer border was fashioned from black dress jeans her husband was wearing on their first date. The mother chose the purple fabric used for contrast.
The second quilt was a queen-sized quilt for the daughter Tess. It featured a beautiful butterfly design chosen by Tess, who also chose the color blue for her contrasting fabric. The outside blocks were made from an additional eight shirts. Borders were fashioned from two pair of trousers.
Making Boxes Out of Shirts
This unique contemporary quilt uses four identical slices of a shirt to form a box. The pattern is by Kaffe Fassett and I followed his pattern carefully. It is best used with striped material, but plaids add an interesting twist. For more information about how to make this quilt, check out the post in Stories.
A Unique Bereavement Quilt for a Nursing Home
One of my favorite quilts is the one above, commissioned by a Nursing Home that needed a bereavement quilt that would fit over a body bag. Whenever they lost someone, they celebrated that person's life in a simple ceremony in the chapel and lined up in the hall as the body was carried out of the facility. Having a beautiful quilt to cover the body bag and later hang in the chapel helped everyone as they said goodby to their friend. To learn more about this unique quilt, check out the post under Stories.
Combining Contemporary with Traditional
This contemporary quilt takes traditional blocks (Mariner's Compass, Snail's Trail) and combines them with various memorabilia. Included are family pictures, photos of Ben, logos from favorite shirts, and family treasures such as bits of his baby blanket (at the top) and part of his christening outfit (center of quilt). To my mind, contemporary is simply bringing the past up to the present time.
More Quilts
Below are more quilts, all of which combine the traditional elements of quilt with modern design, often using unconventional color combinations.
The three bereavement quilts below were made for a son and daughter from their mother's colorful blouses and jackets. Kaffe Fassett has taken traditional quilt patterns and made them contemporary by using unusual materials. Two of the quilts below use one of his most popular designs – the double diamond pattern, which of course is usually constructed from cotton fabrics. The third uses the very popular windmill design.
Inner block is made from a thick wool sweater worn by her father. Pieces of his swimsuit is used in the corners.
Two quilts above are two of thirteen quilts made for a large extended family from the clothes of the mother of my customer Deonna. These demonstrate a more contemporary use of the traditional block. And these clothes were gorgeous, each one of them an inspiration.
Contemporary Chinese bereavement quilt made for son from his mother's clothes
Pictorial Quilts – Each a Unique Design
Picture Quilts that Help a Family Grieve
Debi's Castle Quilt
Losing her husband and her oldest son in a plane crash was Debi's worst nightmare. This quilt was designed for her because she said her husband treated her like a princess. He was her knight in shining armor. The stones in the castle depict some of the many wonderful memories before tragedy struck.
Quilted Wall Hanging – "The Tree"
I made this wall hanging out of both scarves and ties and it is also displayed under "Tie Quilts" But since it is a multi-media bereavement quilt, I wanted to show the variety of styles a bereavement quilt can take. This wall hanging was made for a couple for whom I had already made a large tie quilt, a Kaffe Fassett design called Organic Radiation. If you'd like to know more about how I made it, to to Stories.
Bluebell Woods of England
Jan was very specific about what she wanted when she brought me her mother's clothes. She wanted something close to a photograph, nothing cartoon-like or abstract. Her mother had grown up in England near the famous Bluebell Woods and often spoke of walking among the bluebells and how beautiful and peaceful it was. The blue flowers gradually turn purple as the season progresses, which is a good thing, because most of the clothes were lavender and purple. I used a picture from the web for a template. Jan loved her quilt, which I made as a throw but which can obviously be used as a wall hanging.
If you'd like to know more about this quilt, please check out the post in Stories.
Lisa said her husband took her all over the world, visiting Rome, London, Paris and other major cities as long as New York City. She said it was like flying on a magic carpet. I bordered the quilt with skylines for these four cities, using her husband's clothes and ties.
Seascape – An Abstract Art Work
Chris sent me loads of his mother Barbara's clothes – mostly pastel and simple cottons and knits. He wanted a quilt for his king-size bed but he wanted an abstract that wasn't a picture in the usual sense of the word – something Monet-like, something with no discernible bottom or top, but with maybe a few organic shapes. A new and challenging project for me. Luckily the clothes were beautiful, with many blended colors of blue, as he decided on a sea scene.
A closeup of the quilt displayed on my sofa (Duncan sitting on the side). I did buy extra jean material for the outer border, as Chris has three sisters for which I needed to conserve material. The jellyfish and the adjoining school of tiny fish were made from parts of the dresses that Barbara wore to Chris' wedding (and to his sister Missy's wedding as well.) Fortunately, Chris was very pleased with his quilt.
Three Pictures in One Quilt
Chris' sister Missy had three ideas in mind for her quilt. Her mother Barbara had been a very successful doctor in New Orleans, so she wanted the skyline of New Orleans incorporated into the quilt. But Barbara was a many faceted lady, who also studied ballet after med school and performed in New York City for a while. So Missy thought her mother dancing in the sky would be appropriate – as she had grown up in Texas and always marveled about how big the sky was there. While growing up in the hills of Texas she had owned a Palomino, which she had loved. Missy asked if it would be possible to include something about the horse – and then left the entire design up to me.
Having almost run of out of blue materials, I used my own (or bought) material to make a patchwork blue sky, along with the hills of Texas below. One of my favorite things to do is to make a skyline out of clothing (see Boston skyline on the Tie Quilt page).
This quilt was made entirely from the jackets and pants of a world class chef. Katie fought cancer all her life but managed to do more her short life than most. Only in her thirties at the time of her death, she was working for Cirque du Soleil and was also a mother and an accomplished pianist. This quilt was for her mother, who chose the theme. The few added materials were the red for the cranes and the slim border. Not only did her mother choose the tree of life for the main feature, but she also wanted three red cranes flying across the moon. This quilt is a great example of collaboration between my customers and myself in creating the perfect quilt.
Bora Bora Quilt
Marge wanted a simple picture – a calm and restful scene of Bora Bora where she and her husband had spent their honeymoon only three years before her husband died and she wanted the quilt to be made only from the sleeves of the shirts and jackets, so that she would feel as if her husband's arms were around her when wrapped in her quilt.
There was one exception to the "only shirt sleeves" request: the tie and handkerchief that Bill wore at the wedding were included. From them I made the Bora Bora hut shown in the detail above.
The Forest Quilt
The quilt above was one of two quilts made from a mother's beautiful clothes and gifted to a daughter and a son from their father. Gloria loved the woods and she loved to dance. For the son, I made a view of the forest surrounding their home (with artistic license – there was no stream). Thirty items of clothing were used to make this quilt and I deliberately had the water flow right off the quilt. I copied Ruth B. McDowell's method of paper piecing the background (read more under Appliqued Quilts in my Blog) and then appliqued extra details onto the finished patchwork.
Picture Quilts for Three Daughters
Michelle's father was a musician who adored his three daughters. They all have wonderful memories of being with him at the beaches along the Columbia river, depicted above as seen from a mythic window. As in a dream state, Michelle is seen going forth with the support of her father's love (symbolically seen as he reaches down to hold her hand throughout her life).
Katherine's quilt shows her father holding her hand when she was a toddler as they wade out into the shallows of the Columbia River. Their boat is moored close by. I copied the silhouette from a beautiful photograph that Katherine cherishes of the two of them.
Becca wanted a more abstract representation of water in her quilt along with a string of words that reminded her of her father and their closeness. My idea for this quilt was to view the sea as if one were looking out of a porthole. And I wanted to weave the words around the porthole, rather than to arrange them in the usual fastion along the border.
Story of a Life
The quilt below is an example of my own design, revealed to the client upon completion. This was my first bereavement quilt.
The pictures below depict the progress of a pictorial quilt I made for a mother whose vibrant 35-year-old daughter was brutally murdered. This king-size quilt was made to be hung on the wall or used on a bed.
The slideshow below takes you through the design process: first studying the clothes to get a sense of the lady who wore them, next designing the quilt using a flannel-covered wall. I usually let the clothes guide the process. The construction phase follows, and after that the top is quilted on my longarm machine, a border is added and the finished quilt produced.
This quilt depicts the daughter lying against a brown tree trunk beside another black tree trunk and looking out over the city of Anchorage and the mountains of Alaska beyond. Her house is shown on the right. A picture of her mother and her, as a toddler, astride a family horse is set against of fan of her colorful skirts. At the bottom is the familiar poem, a favorite of the mother's, which begins: "Do not stand on my grave and weep, I am not there, I do not sleep . . . ." The poem is embroidered on a yellow sleeveless dress, which was the dress her daughter was wearing the last time they met. Tires are made from buttons, lace and collars are used to make roads and walkways. Even the woodpecker's markings come from an epaulet on a jacket.
Thirty-two illustrious red hearts against black backgrounds form the border symbolizes the daughter's warmth, vitality, and love of animals and people. To enlarge the pictures, doubleclick on any picture.
To produce a pictorial quilt, it is necessary to learn about the loved one who wore the clothes. My client was generous with notes and pictures to guide me through the process.